So, you've made the decision to jazz up your stairs with a comfy new carpet, and you can't wait to browse online and look at all the carpets available to choose from. But, before you can choose, you need to measure. Measuring stairs isn't quite like measuring a room, it requires some more tricky manoeuvres, with each section of your stairs, whether it being the landing, the hallway, the straight stairs or the curved stairs needing to be all measured individually rather than all together (this makes it much easier). You may have an idea in mind of your budget, which is great! But carpets are priced differently depending on which material you want to use. So, if you measure first, you'll know exactly how much carpet you'll need and if it lands within your budget.
If you're unsure exactly how to measure your stairs, or don't know how to add all the different measurements up so you can order the right amount of carpet, follow our guide to help you along every step.
In this handy guide to measuring your stairs for carpet we'll cover:
What you'll need

Things to remember

How to measure your landing

How to measure your stairs

How to measure your hallway

Other things to consider
What you'll need
Measuring a room for carpet is pretty simple and you don't need any complicated tools to get the job done. All you need is the following:
Paper

Pen or pencil

Tape measure

Ruler
Things to remember
Always measure from the top of the stairs downwards, as this is the way the pile direction will go

Curved stairs must be measured individually as each step may be different!

Measure the width and depth of any doorways on your landing and hallway

Don't forget to measure any dropbacks, alcoves or any funny little spaces that don't follow the natural shape of the stairs, landing or hallway

Take some measurements wall to wall across your landing and stairway, as your walls may not be completely parallel

The part of the stair you step on is called the tread, the edge is called the nose, and the vertical part is called the riser

If you have a half landing, make sure to measure the length and width, as well as the next downwards step's tread

Take plenty of photos!
How to measure your stairs
Measuring the landing
As the measuring process will be done in sections, start with the landing and work down the stairs to the hallway, making sure you take notes as you go. 
Start by drawing a simple floor plan of your hallway and landing and mark where your stairs come down from the landing

Measure the landing just like you would measure a regular room, keep in mind to measure any doorways

Include the top stair in your measurements for the landing. Run the tape over the nose and down the tread
Measuring the stairs
Count how many straight and curved stairs you have, and make a note. The curved stairs will all have to be measured individually as they will differ in size

Measure your straight stairs from the back of the top step's riser, lead the tape measure over the nose and down the tread. Once completed measure the width and note all measurements down on your floor plan

Measuring curved stairs is trickier, as you have to measure each one. You'll need to measure each curved step's width at its widest point, from the inner corner of the narrow edge to the furthest point on the widest edge. You also need to measure from the back of the stair tread at its longest point, over the nose and down the riser on each step, noting down each measurement as you go
Measuring the hallway
Just like the landing, measure the hallway just like you would measure a regular room, and remember to keep in mind to measure any doorways, alcoves, drop backs or any other spaces that don't follow the natural shape of your hallway

Once you've measured the hallway, draw an arrow on your floor plan to show where the stairs meet the hallway
Other things to consider
Details are key
The best thing to do when approaching a carpet supplier is to provide them with all the details you can, this will make the whole process easier for everyone involved. That means making a note of every step, every turn, every backdrop, alcove or little space that doesn't follow the shape of your hallway or landing. They will also want to know what the base of the floor is made from, whether it is concrete, floorboards or underfloor heating. This could impact the suitability of the carpet. So it's always best to make sure you've covered every base!
Don't worry! There's always help!
When you find a retailer that stocks the carpet you want, be sure to find out if they offer a free measuring service. Often, suppliers will come to your home, measure the part of your house you want carpeted and provide a quote for free, so if you don't have much confidence in your measuring skills, the likelihood is, a professional will be able to do it for you. So don't worry!
However, if you've done all your measurements and you're ready to choose which cosy carpet is for you, look no further than Kingsmead. We have a huge range of home carpets to choose from, whether you want a deep pile ultra soft carpet or a carpet that is resilient for a bustling house with pets and children. Browse our stunning range of luxurious and natural home carpets now and find a supplier to transform your stairs in no time.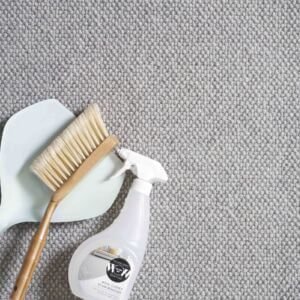 Cleaning stains on your home carpet requires different regimes and solutions depending on the carpet composition. Some carpets are easy-clean meaning stains can be removed with just soap and water, whereas other stains require strong solutions and have a carpet composition that can withstand bleach cleaning and harsh chemical carpet stain removal. In this guide,
Read More